Jurassic World: Dominion Dominates Fandom Wikis - The Loop
Play Sound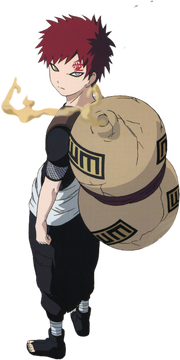 Gaara (我愛羅, Gaara) is a shinobi of Sunagakure. He was made the jinchūriki of the One-Tailed Shukaku before he was born, causing the villagers of Suna to fear him as a monster. With nobody to connect to, Gaara grew up hating the world and looking out only for himself, giving his life meaning by killing anyone he came across. After being defeated by Naruto Uzumaki — a jinchūriki like himself who found strength in his friendships — Gaara starts emulating him. He becomes Suna's Fifth Kazekage (五代目風影, Godaime Kazekage, literally meaning: Fifth Wind Shadow) so that he can protect the village and all those who live there, dispelling the fears he cast on the villagers.

Because of heavy cuts to Sunagakure's budget, the Fourth Kazekage wanted to make one of his children the jinchūriki of the One-Tailed Shukaku to serve as a weapon for the village. His first two children, Temari and then Kankurō, had not been compatible with Shukaku. Rasa's third child, who would become Gaara, was compatible, and for that reason Shukaku was sealed into him by Chiyo while he was still in his mother's womb. Gaara ended up being born prematurely and, from the ordeals of childbirth, his mother, Karura, died. Before dying, Karura looked lovingly at Gaara's small form and vowed to always protect him.
Gaara was raised in isolation during his early life, taught ninjutsu by his father and cared for by his maternal uncle, Yashamaru. When he was allowed to roam around the village, Gaara would try to connect with the villagers, being kind to them and offering them any assistance he could. However, being a jinchūriki made the villagers frightened of Gaara; adults avoided him and, when they couldn't, treated him delicately while children would run from him on sight. Gaara would try to assure them he meant no harm, but in the process would inadvertently injure or even kill them with his sand. Gaara did not understand this pain he caused others because his sand protected him from all injury. When he was six years old, Gaara asked Yashamaru to explain pain to him. From Yashamaru's explanation, Gaara believed he did know pain: the unbearable agony in his heart.
From this, Yashamaru elaborated that physical pain, what causes one to bleed, could be cured with medicine and time, whereas pain of the heart, like Gaara experienced, could only be cured with love. Gaara, said Yashamaru, received love everyday, from both his mother - whose spirit controlled the sand that protected him - and from Yashamaru himself. Gaara was pleased by this and went out into the village to show some love to those he'd harmed, but his efforts were met only with more fear and hate. Gaara was dismayed and went off to try and understand why he was treated as such a monster. While doing so, he was attacked by one of Suna's Anbu, whom he fatally wounded with his sand. When he unmasked the Anbu, Gaara discovered it was Yashamaru.
Gaara was devastated that Yashamaru, the only living person to love him, would try to kill him and asked for an explanation. Yashamaru replied that it was a mission given to him by Rasa, Gaara's father, it having been decided by the Suna Council that Gaara was a failed experiment that, if allowed to live, would only continue to do harm to the village and its people. Gaara tried to find solace in the fact that Yashamaru had been ordered to kill him, but Yashamaru insisted, lying to Gaara, that he volunteered and that he'd always hated Gaara for causing Karura's death. Karura had not loved Gaara either, and named him after the phrase "a self-loving carnage" (我を愛する修羅, Ware o aisuru shura) so that he would be a curse upon Suna for what it had done to her. With his explanation done, Yashamaru asked Gaara to "please die" before blowing himself up with explosive tags.
Gaara's sand - a product of Shukaku rather than Karura if Yashamaru's words were to be believed - shielded Gaara from the blast. Having lost everything he cared for, Gaara decided that he would from that point forward live up to his namesake by loving only himself; to that end, he used his sand to etch the kanji for "love" (愛, ai) onto the left side of his forehead. Overwhelmed with grief, Gaara transformed into Shukaku and attacked Suna, which Rasa stopped with his gold dust. Rasa would arrange five other assassination attempts on Gaara over the following years, all of which Gaara evidently survived. Due to his singular focus on himself, Gaara eventually learned to reign in his powers and became the lethal weapon of destruction Suna wanted him to be, prompting Rasa to stop trying to kill him and instead find a use for him
Gaara was consistently warm to others during his early life. Although most of Suna's villagers feared and despised him, he was able to persevere due to the love that he felt from Yashamaru and his mother. His father, Rasa, believed these niceties were impeding Gaara's development as a jinchūriki and as such had both taken from him: he ordered Yashamaru to try and kill Gaara and, if he were to fail, to tell Gaara that neither he nor Gaara's mother had ever loved him. Rasa's plan succeeded, as following Yashamaru's death Gaara stopped trying to connect with people. Rather, Gaara focused on himself, driven solely by his own desires and his own survival.
During his years of caring only about himself, Gaara becomes infamously known as "Gaara of the Sand Waterfall" (砂瀑の我愛羅, Sabaku no Gaara, English TV: Gaara of the Desert). Though he outwardly appears calm, "Gaara of the Sand Waterfall" is deeply unbalanced, completely unmoved by others' pleas for mercy and, in certain situations, driven mad with bloodlust. This behaviour is partly due to Shukaku, whose voice Gaara alone can hear in his head, who encourages violence at every opportunity, and who torments Gaara with threats to take control of his body if he falls asleep, thus making Gaara an insomniac. But Shukaku is not wholly responsible: Gaara simply hates other people for existing, believing that so long as they are alive they are a threat to his own life. His purpose, therefore, is to kill anyone who is strong or whom he perceives as similar to himself, as only by killing them can he assert his own existence. With those who do not interest him, Gaara is typically withdrawn and silent. When he must interact with them, he does so with open disregard for their feelings and often threatens to kill them, even his own siblings, if they become too much of a nuisance to him.
Gaara's background is very similar to that of Naruto Uzumaki: both have been jinchūriki since the day they were born, both were hated by almost everyone in their village, and both were raised without a parent's love. But whereas Gaara eventually gave up on other people, Naruto continued trying to win the acknowledgement of his peers and village, pursuits he eventually succeeds at. Whereas Gaara seeks strength only in protecting himself, Naruto seeks strength in protecting the friends he makes. When the two fight during the Konoha Crush and Naruto defeats Gaara, Gaara takes this as proof that his own choices in life were wrong; he had surrendered to his difficult circumstances too easily. From that point onward he starts moving away from "Gaara of the Sand Waterfall" and starts emulating Naruto instead, improving his relationships with his siblings, making friends within Suna and without, and finding something that he's willing to give his life to protect. His relationship with Shukaku did improve somewhat when he told the tailed beast he used to hate it, but was grateful to the beast because he was able to meet Naruto due to the painful life Shukaku made him endure.
Gaara becomes Suna's Kazekage by the start of Part II, signalling the success of his emulation of Naruto. As Kazekage, Gaara becomes much wiser than most people his age when he took on the role. He forgave his father for trying to assassinate him as he was only trying to protect the village. Gaara also gains a new purpose in life by dedicating all his energy towards serving the village and those who live there. Although he retained some detractors, most of the villagers adore him and will do what they can to help him reform Suna and the rest of the world. Even this reform is very much inspired by Naruto, as he wishes for the Five Kage and their hidden villages to cooperate and benefit from each other in the same way that he has benefited from Naruto's influence. Gaara believes in forgiving past differences and strife, abandoning antiquated concepts of "honour" that only promote isolation, and serving a purpose greater than one's self. As in Suna, this unity that Gaara advocates is slow to catch on, for a time only gaining support from Naruto's own Konohagakure. By the time of the Fourth Shinobi World War, however, the Five Kage are convinced by Gaara and this in turn starts trickling down into the larger Allied Shinobi Forces.
Despite his history of cruelty and young age during his ascent to Kazekage, Gaara attains the love of his people by showcasing his idealism, compassion and willingness to reform himself. A man of few words, Gaara leads by example, an assertive, thoughtful and collected presence in the heat of diplomacy and battle, who willingly puts his life on the line for his friends and allies. Gaara's way with words, astuteness and integrity earn him the respect of the older, more experienced Kage. Gaara's touching speech before the Allied Shinobi Forces produces a resounding response and is able to mend the rift between the Five Great Shinobi Countries. Gaara's superlative leadership abilities lead to his posting as Regimental Commander of the Aliied Shinobi Forces.
Gaara feels indebted to Naruto for how significantly he's changed since his time as "Gaara of the Sand Waterfall"; he considers Naruto his closest friend and believes all the tragedies of his childhood were worthwhile since they led him to meet Naruto. He takes part in the Fourth Shinobi World War not simply because he believes Akatsuki must be stopped, but because by doing so he can keep Naruto safe. Gaara's desire to protect Naruto, at times, means acting against Naruto's wishes: he knows Naruto would want to participate in the Fourth Shinobi World War to protect his loved ones, but feels Naruto would be safer if he were forbidden from doing so. Just like before, however, Naruto's desire to protect his friends gets through to Gaara, as he does not argue with his participation in the war after accepting he made an error in judgement. Gaara often cites his own experiences as "Gaara of the Sand Waterfall" during his interactions with Sasuke and others who suffer hate and loneliness, explaining the missteps that he didn't realise he'd made until he met Naruto so that they, in turn, might realise their own. His words do not always convince them, but Gaara is able to empathise with their choices and, as with Sasuke, he even wonders if Naruto could get through to them, just as Naruto got through to him. Despite his stoic demeanour, Gaara is empathetic and in touch with his emotions, freely shedding tears at Sasuke's refusal to change his ways, and at the revelation of his mother's love for him.
As an adult, Gaara becomes wiser. When some of the current Kage expressed concerns about leaving the next generation to handle the threat they would soon face because these were peaceful times they were growing up in, Gaara calmly says each generation having little faith in the next one is not an uncommon thing. His empathy has also deepened, as he was able to understand Shinki needed love to help his out-of-control Magnet Release, hugging him in their first meeting and adopting him to give Shinki the happy family Gaara himself didn't have.
Gaara retains some social akwardness as an adult. His nephew Shikadai noted Gaara tends to give strange gifts when he visits.

Mattel has released 7 figures of Gaara including a miniature figure and a large premium sculpt figure.