Mattel Television (formerly Mattel Creations) is the television production banner/division of Mattel. Originally created by Mattel as an American-English content production division to centralize its media production output on March 30, 2016, it was active for two years before the film franchise's hiatus and its revival in between the TV series, "Barbie: Dreamhouse Adventures", simply from 2016 to 2019. On launch, it absorbed Mattel Playground Productions and HiT Entertainment.
Beginnings as Mattel Creations

[

]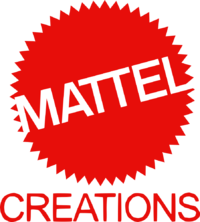 Mattel Creations was formed on March 30, 2016 to bring all three of Mattel's content production units, including the American Girl creative team in Middleton, Wisconsin, under its aegis and absorp them. Mattel's then chief content officer Catherine Balsam-Schwaber was named to head the unit. While, Christopher Keenan was moved up out of the now-defunct HiT Entertainment to be the division's Senior Vice President of content development & production. The division pacted with DHX Media (now WildBrain) for the production and distribution of new and existing multi-platform content for previous HiT properties like Bob the Builder and Fireman Sam and direct Mattel properties like Little People and Polly Pocket. The division also pacted with 9 Story Media Group directly with HiT for 2017 revivals of Barney & Friends and Angelina Ballerina, there were originally reboots on either revival, but the plans were scrapped.
Mattel Creations and Universal Pictures' home video content group had agreed to an exclusive worldwide SVOD rights agreement for the Barbie film library. This deal started in October, 2016 for the next seven years and includes the next two releases: Barbie: Star Light Adventure and Barbie:Video Game Hero. This only lasted until the released of Barbie: Dolphin Magic as newer Barbie content would move to Netflix starting with that film.
With Balsam-Schwaber taking the general manager position at Craftsy, Mattel president and chief operating officer, Richard Dickson, took over the responsibility for Mattel Creations and was not planning to fill the chief creative officer post.
Reorganized as Mattel Television

[

]
Mattel hired former Disney Channels Worldwide (now Disney Branded Television) programming executive Adam Bonnett as executive producer and head of a reorganized division named Mattel Television on February 8, 2019. On February 15 that year, Mattel TV announced a slate of 22 animated and live-action TV programs. This division works with the franchise management division's senior vice president of content distribution and business development Frederic Soulie.
On February 23, 2021, Mattel Television announced the return of the Monster High brand 3 years after its last production with a planned animated series and a live-action musical film, which will both air on Nickelodeon in the United States in 2022.[1][2] On August 30, 2021, with the Universal deal expired, Mattel struck a deal with local home video releasing powerhouses, Mill Creek Entertainment and NCircle Entertainment, for the newer Netflix-based content for DVD, Blu-ray and Digital HD distribution to certain geographical regions where streaming platforms have activation, launch and censorship issues.[3][4][5][6][7]
On 7 September 2021, following the debut of the streaming television film Barbie: Big City, Big Dreams on Netflix, Mattel hired former NBCUniversal vice president of current programming, Philip "Phil" Breman, to be the division's vice president for scripted and unscripted live-action series development.[8][9][10] Following its global popularity success, Mattel Television unveiled a planned CGI-animated streaming TV series continuation of the film on 1 February 2022 known as Barbie: It Takes Two.[11][12]
Productions
[
]
References
[
]