This page's topic has a wiki of its own: Monster High Wiki!!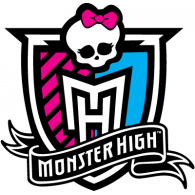 Monster High is an Mattel fashion doll franchise created by the ideas of Garrett Sander, who first developed it in 2007, with illustrations by Kellee Riley and illustrator Glen Hanson and launched on June 11 2010. The characters are inspired by monster films/movies, sci-fi horror, thriller fiction, and various other creatures. The franchise includes many consumer products such as stationery dolls, bags, key chains, various toys and play sets.
Just months after launch, Monster High has spawned a book series, an animated web series which was developed with DHX Media (now WildBrain), 6 Point Harness and Nerd Corps Entertainment and released on YouTube and the production and release of a number of direct-to-video television specials and films which were distributed on home video formats by Universal Pictures Home Entertainment and broadcast in the United States on cable TV channel Nickelodeon. The audiovisual media was touted as the modern-day motive to launch new doll characters in the digital era. In 2016, Mattel released a reboot and origin story called Welcome to Monster High, using revamped face molds, upgraded animation technologies and techniques, a slogan ("How Do You Boo?") and the song "This Is How We Boo", performed by Jordin Sparks.
On February 23, 2021, Mattel announced the return of the Monster High brand, promising new content and products for the following year. Its television division announced a new animated series and a live-action film/movie based on the franchise. Both projects will air on Nickelodeon in the United States in 2022.