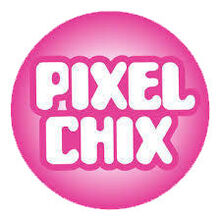 Pixel Chix is a toy line of interactive electronic games with an LCD screen and a plastic dollhouse background lit up behind the screen. The series began in September 2005 with the "House" toy and ended with "Fab Life City" in November 2009. They are centered around a virtual girl character who is known to exude attitude when they feel like it.
The toy manuals consistently refer to the character as a "Gal", while Mattel's customer service website alternates between referring to them as a "Gal" or a "Pal". A product description from the latter has also referred to her with the name "Pixel".[1]
The brand included a website hosted under "EverythingGirl.com" until its closure in 2015, several years after the toys were discontinued. The URL currently redirects to Mattel's Barbie homepage.
In 2020, Mattel filed an application to renew the Pixel Chix trademark, with a possibility of rebooting the toy line in future.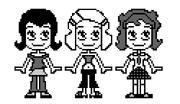 Pixel Chix Pals
The games each features one of three main Pals:
A black-haired Gal with a flick-up bob hairstyle.
A light-haired Gal with her hair parted on the right, held with a hair clip on each side.
A wavy-haired Gal with a medium hair color, which is stylized with bangs.
In most of the games, her appearance and sometimes even the hairstyle can later be changed through customization.
List of Pixel Chix Toys
[
]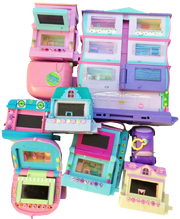 Pixel Chix:
Love 2 Shop Mall, 2006

Boutique/Food Court (J9435)
Salon/Pet Shop (J9436)

Roomies, 2007

Roomies House (L4416)
Roomies Friend (L4458)

Miss Sporty (L4416)
Diva Queen (L4459)
Punk Rocker (L4460)
Super Smarty (L4461)
DJ Hip Hop (L4462)
Pixel Pets:
Other:
Website Items (EverythingGirl.com)
[
]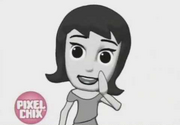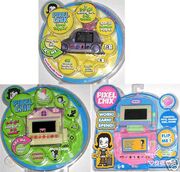 Trivia
[
]
The Pixel Chix product and concept was designed by Jeffrey Levine during his employment at Mattel. As per his website, he was responsible for the Product Design, Game Design, UI Design, and Character Design of Pixel Chix.[2]
The Pixel Pets toy line was created by Kim Vandenbrouke during her employment at Mattel. As per her website, her idea had competed against other potential designs for the expansion of the Pixel Chix series, and this line with "Secret Life of Pets" had been selected.[3]


During development of the "Secret Life of Pets" toy, the character in the hamster variant was called "DJ Little Paws" while it was in the prototype stage.

Almost all Pixel Chix Gals are voiced by Tara Strong, with the exception being the "Miss Sporty" Gal voiced by Katherine Von Till.
References
[
]