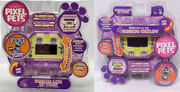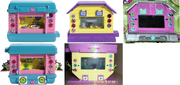 Pixel Pets is a subset of Pixel Chix, and featured the Secret Life of Pets series that debuted in 2007. The two versions of this toy were the Rockin' Puppy House, and the Jammin' Hamster House. Each toy could be flipped upside down to change the mode of the whole game.
Trivia
[
]
The Pixel Pets toy line was created by Kim Vandenbrouke during her employment at Mattel. As per her website, her idea had competed against other potential designs for the expansion of the Pixel Chix series, and this line with "Secret Life of Pets" had been selected.[1]
During development of the "Secret Life of Pets" toy, the hamster from the Jammin' Hamster House was called "DJ Little Paws" while it was in the prototype stage.
↑
"Pixel Pets: Secret Life of Pets" Kim Vandenbroucke. 2011.