Jurassic World: Dominion Dominates Fandom Wikis - The Loop
Play Sound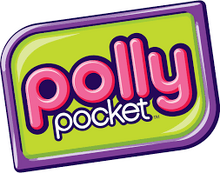 The topic of this page has a wiki of its own: Polly Pocket Wiki !!
Polly Pocket is toy-and-doll line created and sold by Bluebird Toys until 1998 when they were purchased by Mattel.
History
[
]
Polly Pocket was first designed by Chris Wiggs in 1983 for his daughter Kate. Using a makeup powder compact, he fashioned a small house for the tiny doll. Bluebird Toys of Swindon, England, licensed the concept and the first Polly Pocket toys appeared in stores in 1989. Mattel held a distribution arrangement with Bluebird Toys for Polly Pocket items in the early 1990s. In 1998, while production lulled, Bluebird Toys endured multiple hostile takeover attempts until Mattel finally purchased them later that year. The sets made by Bluebird Toys are now valuable collectables.
The original Polly Pocket toys were plastic cases that opened to form a dollhouse or other playset with Polly Pocket figurines less than an inch tall. The dolls folded in the middle, like the case, and had circular bases which slotted into holes in the case interior, allowing them to stand securely at particular points in the house. This was particularly useful for moving points in the case. Because the dolls were so small, sometimes they came enclosed in pendants or large rings instead of the more typical playset cases.
In 1998, Mattel redesigned Polly Pocket. The new doll was larger, with a more lifelike appearance than the original dolls. She had a straight ponytail, rather than the curly bob hairstyle used previously. The following year, Mattel also introduced "Fashion Polly!," which used the same characters from the new Polly Pocket (Polly, Lea, Shani, Lila, etc.), but they came in the form of 3+ inches (9.5 cm) plastic jointed dolls. They gave a new spin on fashion dolls; instead of traditional cloth clothing, Polly Pockets used unique "Polly Stretch" garments, created by Genie Toys, rubbery plastic clothes that could be put on the dolls and removed. There are also some boy dolls (Rick, Steven, etc.). Like Barbie and Bratz dolls, they also star in Polly Pocket movies, books, and sites.
In 2002, Mattel stopped producing the smaller Polly Pocket playset range but continued to produce the larger fashion doll.
In 2004, Mattel introduced the Polly Pocket "Quik Clik" line. Instead of having rubbery clothes, the dolls had plastic clothes that would click together by magnets. On November 22, 2006, 4.4 million Polly Pocket playsets were recalled by Mattel after children in the United States swallowed loose magnetic parts. Affected toys had been sold around the world for three years prior. (The use of magnets in children's toys — and particularly the inclusion of two or more magnetic parts in such toys — has resulted in many significant injuries in children, and has been repeatedly flagged as hazardous by the U.S. Consumer Product Safety Commission (CPSC), who have sued many companies over such toys and announced many recalls).
For the 2010 relaunch, Mattel made further changes to the Polly dolls, including increasing feet size, head size, and leg size, although the height remains approximately the same. However, fan reactions were mixed. It also introduced the Cutants, which are inanimate–animal hybrids.
In 2012, Polly Pocket toys were discontinued in the U.S. but remained available in Europe and South America. The brand dwindled, eventually only being sold in Brazil. The dolls would continue to be sold exclusively in Brazil until the brand's 2018 reboot.
On February 12, 2018, Garrett Sander announced on his Instagram page that Polly Pocket would be making a comeback. The new toys are miniature dolls in playsets, like the original 1990s Polly Pocket, rather than the larger Fashion Polly. However, they are slightly larger than the original 1990s version. Rather than slotting into holes in the case, the new Polly is made of a flexible plastic that sticks to certain surfaces, but also bends so she can sit in a chair.
Media
[
]
Movies
[
]
PollyWorld is a Canadian-American direct-to-video animated film from Universal Studios, based on the Polly Pocket toy franchise.
Web and TV series
[
]
Web series
[
]
In 2010, animated web series based on the eponymous toy line was released, primarily to promote the first reboot of the franchise. The first season was made in flash animation and susequent seasons got produced in Computer-generated imagery (CGI). In 2013, the webisodes were given a significant makeover on character designs with the voice-overs/voice artists remaining intact.
TV Series
[
]
To accompany the second franchise relaunch, Mattel commissioned DHX Media (now WildBrain) to produce an eponymous cartoon series for release on YouTube under its own dedicated user handle. It aired on Canadian television on Family Channel on July 8, 2018. The series features a young girl named Polly who has a magical locket that allows her and her friends to shrink down to a tiny size.